fingers

& tongues

fingers & tongues is a collection of erotic short stories by Paola Kathuria.

When you read erotica, do you skip forward to the sex bits?

Do you get frustrated when the sex then gets interrupted by dialogue?

Do you enjoy sexually-explicit material that depicts women's pleasure?

At last, smart erotica with men and women as sexual collaborators.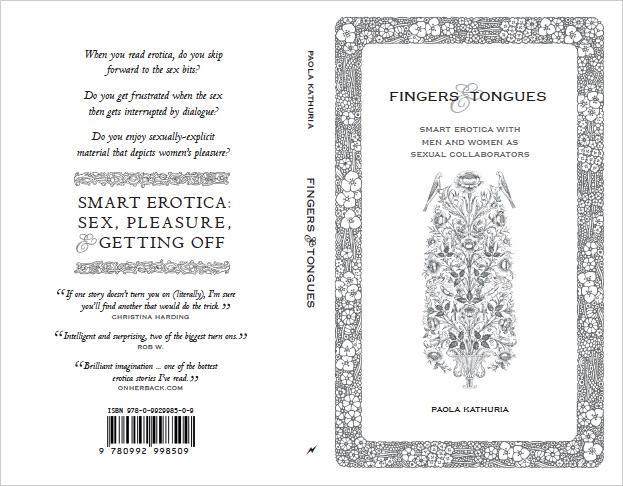 Details
Paperback: 104 pages, 111mm x 181mm
Published by Limitless Innovations, 31 Oct 2014
Editor: Tashery Shannon
Copy Editors: Sally Salvati & Frank Wales
Designer: Paola Kathuria
Paperback ISBN: 978-09929985-0-9
eBook ISBN: 978-0-9929985-1-6
Stories
Reaching for the Moon: A female/male fantasy told by one woman to another, followed by a scene between the two women. (mf, ff, mm)
The Cinema: A woman has an encounter with male strangers in a public place. (mfm)
The Train: An accidental touch during the morning commute inspires a fantasy. (?f)
The Chair: A couple make love. (mf)
The Dream: A fantasy focussing on a young woman. (?f)
A Very English Supper: A woman, a man, a sausage, beans and mash! (mf)
Old Friends: A woman with two older male friends visiting London. (mfm)
Hear a sample
In the (Kickstarter campaign) video below, I read the beginnings of two stories.
Reviews
Christina Harding Erotica
"What really struck me while reading the short stories in fingers & tongues was the vast variety between all of them. Paola skillfully transitions between writing heterosexual and homosexual encounters.
"Frequently when I read a book of short stories they tend to feel formulaic; however, this was not the case with fingers & tongues. I would not have been surprised if this was an anthology of short stories written by a variety of authors. And so I am genuinely impressed with Paola's versatility as a writer.
"With this being said, I would suspect that there is something for everyone in this eclectic collection. If one story doesn't turn you on (literally) I'm sure you'll find another that would do the trick."
Visit Christina's blog for an excerpt from The Train and an author interview.
onherback.com
"When Paola Kathuria asked me to review her erotica I was a bit worried. I've only ever reviewed erotica that's been published by a big publisher. There is rarely a connection to the author with the erotica I review and I don't have to worry about any hard feelings. I pride myself on honest reviews and I didn't want to have to give a negative review. When I read her story all my worry vanished. Her erotica is well written and engaging, significantly better than some published erotica that I've read.
"Paola told me that she wants her erotica to be more arousing for the reader, more pornographic. It certainly did the job it was assigned. 'Reaching for the Moon' doesn't mess around. A few sentences into the story the action begins and it doesn't slow down. There's no resolution, just a climax. A long, long climax that extends beyond the story once it's finished. The ending does something unique, it gives the reader the chance to finish the story for themselves and it stuck with me long after I finished reading.
"Women's pleasure is highlighted in this story, something that is not prevalent in non-feminist porn. There's no face-fucking, no gagging on dicks, just sex. Pure, enjoyable sex. Both men and women will find this story has a desirable effect on their body. 'Reaching for the Moon' is an all-encompassing erotica. There's FF, FM, and MM all in one story, ensuring that every reader will find something that turns them on.
"Paola's erotica delivers what the author intended it to: a story to turn you on. Quality writing makes the story enjoyable to read and a brilliant imagination made 'Moon' one of the hottest erotica short stories that I've read."
Review on On Her Back.
Feedback
"You got me right in the chest, almost stopped my breath. Your story was intelligent and surprising, two of the biggest turn ons. Erotic, experienced and well-written." Rob W.
"In a genre that's often overwhelmed by an obsessive attention to physical particularities, your silences and omissions are a relief and a delight." Steve W.
"After your last line, 'I walk away.', I actually wrote 'Don't stop!' as a comment in my review notes. I'm longing for more, which is an excellent indicator that the story ends in the right place." Clarissa F.
"I loved the intimacy of 'The Chair'. Not only could you picture their love-making but it felt real. Not a fantasy or some wild experience but an actual living couple." Clarissa F.
"I loved 'Reaching for the Moon'. Not only for the erotic side of it, but for the cleverness of construction. 'Fearful symmetry...' Very impressive." Pete F.
"'The Cinema' is my favourite story! It starts off innocently enough and quickly escalates into a semi-dangerous situation. The abruptness with which it ends also factors into the making of one of the best short stories I've ever read!" Clarissa F.
"I am constantly looking for the story that actually weaves some kind of narrative with believable and interesting characters in addition to the usual sucking and fucking. 'The Cinema', with little preamble and stampeding straight towards a completely anonymous and after-the-fact consensual scene completely took me by surprise. Your heroine was at once self-conscious and unabandoned, violated and in control. Your descriptions were sensual, shocking, embarrassing. They inspired me, they got me off. I wish my wife were home." K. G.
The intended audience
For people who mainstream porn useful but offensive, and erotica exciting but frustrating, my porny erotica is the answer.
My short stories are sex stories (erotica) with the intent of porn (to arouse). They are light on story and dialogue, and heavy on sex. Once the sex starts, it continues uninterrupted.
I think that erotica is something you read, whereas porn is something you use.
My erotica is erotica you use.
I call it erotica as a tool.
I wrote them for both men and women to enjoy.
pornography, n. "The explicit description or exhibition of sexual subjects or activity in literature, painting, films, etc., in a manner intended to stimulate erotic rather than aesthetic feelings; printed or visual material containing this."
erotica, n. "Matters of love; erotic literature or art (freq. as a heading in catalogues)."
Source: OED Online. Oxford University Press, March 2014. Web.
The story behind the book
Dissatisfied with what I found online and in books in my early 30s, I decided to write my own sexual fantasies as short stories.
I posted them to an online erotica forum with 250,000 subscribers. I received high ratings and positive reviews from both men and women.
In 2014, I ran a successful Kickstarter project to raise funds to edit and print the stories.
I created a pocket paperback of short stories and a campaign-exclusive A5 hardback with unfinished stories and background notes.
Features
appealing equally to men and women
strong female characters
a focus on the delight in giving pleasure
descriptive but brief story introductions
uninterrupted explicit sexual descriptions
strong stories that can be enjoyed over and over
well-written and with proper editing