Ace Records site requirements
Run a requirements workshop and document requirements for a records database and web site.
Client of Limitless
Ace Records had a number of goals for their office database and their web site.
Paola ran a half-day meeting at Ace Records with their web developer present to discuss - and then document - their database and web site requirements.
Ace Records had three main requirements:
move their web site to another server
maintain a local database of catalogue, royalty and licensor information
add a searchable catalogue to their web site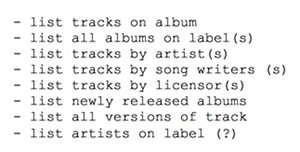 Paola wrote a requirements document after the meeting. It included various technical approaches, each with a discussion of the pros and cons.
The document also included a database design which would allow flexibility in searching (e.g., list available versions of a given song) with the minimum of maintenance.
---
Database design notes