European ISP web-based survey
Paola and Frank provided research for a public telecommunications company considering investing in Internet access providers in the UK and central Europe.
They wanted to establish a picture of the Internet service provider market in the Czech Republic, Poland and Hungary. They found us through Paola's UK & Irish Internet Company Directory.
We contacted potential respondents by e-mail and invited them to participate in a web-based survey which we designed. Response rate was 56% - the survey responses and analysis were written up in a 145-page report which was later made public in summary form.
The survey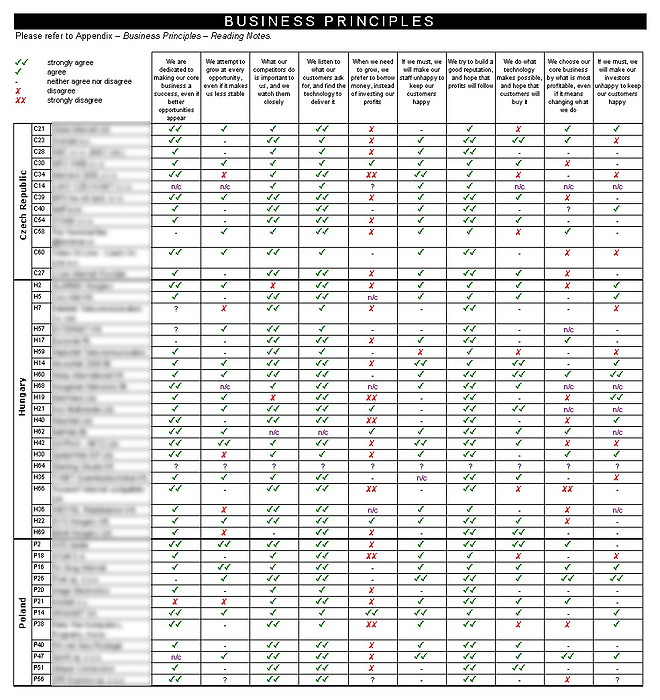 We devised a section in the survey on Business Principles. It allowed companies to make certain statements that could reasonably be tied to their ethos, or strategy, without the statements necessarily being seen as judgmental or threatening.
Three example statements follow. Respondents were asked to rate agreement with them on a 5-point scale:
"We do what technology makes possible, and hope that customers will buy it"
"We choose our core business by what is most profitable, even if it means changing what we do"
"If we must, we will make our investors unhappy to keep our customers happy"
56% response rate
Lists of ISPs from Czech Republic, Hungary and Poland were collated from various sources; we then proceeded to gather a contact e-mail address for each. We sent a short message to the contactable 129 companies and asked for the owner's or general manager's e-mail address; 63% replied.
A few days later, we mailed out the actual survey invitation using software we'd developed to ensure the each message was individually addressed. After a week, we sent reminder messages to any companies which hadn't yet responded.
Survey response was high - 56% of those invited - respondents were mostly company owners, directors or senior managers. As an incentive, we promised to make a summary of the survey results available six months later. The number of responding companies represented 24% of our original ISP list.
The results
Data was imported into Excel for analysis. A sheet was created for each comparison table that would appear in the final report. In addition, each survey response was imported into Omnis3 and its own reporting was used to generate the company-detail pages.
The report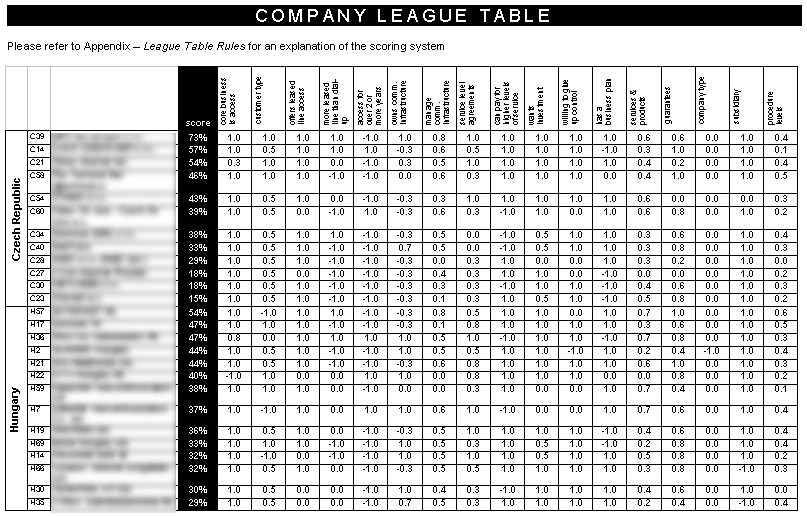 The resulting 145-page report was split into an overview, comparison tables, company detail and supporting materials in an appendix. We prepared the report using MS Excel, Word and Omnis3 (for the company details); we endeavoured to present information in the most accessible way by use of colour and frequency.
The comparison tables took groups of related survey questions and presented responses side-by-side, such as Business principles and Disaster recovery provisions.
We also created a one-page overview comparison table called the Company league table. To make it, we created a scoring system based on the client's company selection criteria. The scoring system was then applied to all the companies to produce a ranking.
The biggest section of the report detailed each company's survey responses in an easy-to-read format.
This Central European ISP survey and the UK ISP survey were both completed within five weeks from go-ahead.
Our client eventually purchased a number of eastern European ISPs and a UK ISP and was itself acquired by a leading pan-European data communications company in 2002.
---
Company league table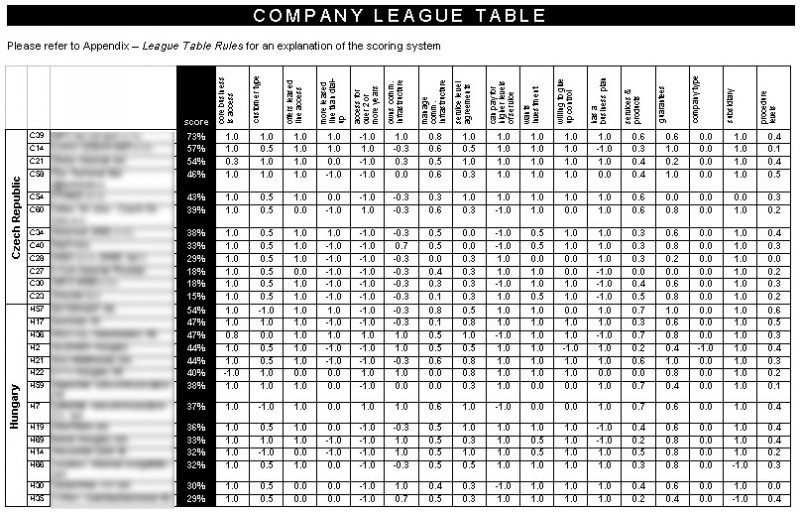 Business principles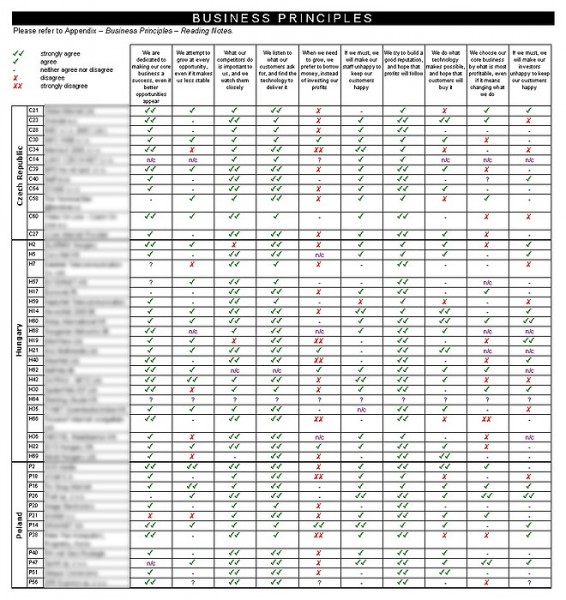 Business planning, growth and profit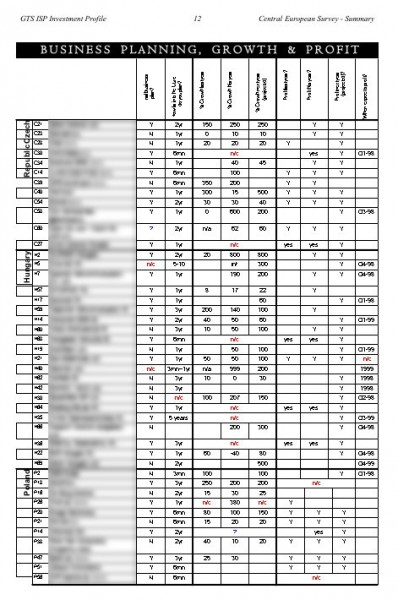 Comparison tables