"People keep saying 'phone hacking' as if it's a big deal"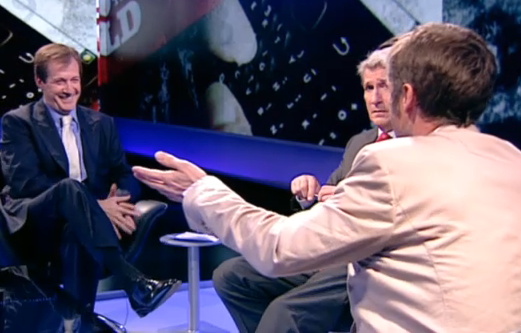 This is a partial transcript of the BBC Newsnight discussion on phone-hacking, the interception of messages left on Milly Dowler's phone, first broadcast 5 July 2011.
It only includes the discussion directly involving Paul McMullan.
Participants: Jeremy Paxman (JP), Alastair Campbell and former News of the World journalist Paul McMullan (PM)
---
[introduction]
JP: Let's start with you, Paul McMullen. Rebekah Brooks says that she's staying, that she didn't know what was going on in these alleged cases. Can she stay? Could she not have known?
PM: Umm. Funnily enough, I've always been quite loyal to her and, god knows why, ah, but, umm, one slip-up was when Hugh Grant came into the bar and we had a chat over the bar and I actually said "yeah, she knew all about it" to him but, you know, that was a bit of unguided bar talk. But, umm, the simple answer is, yes, course she did.
JP: She, of course, denies that.
PM: Oh, I see. Umm, right, well that's an interesting position to take. And one that, you know, when they first said it's just a rogue reporter, I thought about that's so unfair. What about all the legitimate investigations that we've done. We've had to go into these grey areas and do these things. Surely you should be protecting us by saying, or taking the point, yes sometimes we have to do these things, not it's just one person and we never knew anything about it.
JP: What was it like to work there at that time? I mean, Glenn Mulcaire, the Private Investigator, talks about a climate of constant pressure to deliver things.
PM: It is. You're only as good as your next story. They used to do a byline count every year and, if you didn't have enough bylines in the paper then it was goodbye, you know.
JP: And can you imagine yourself, in that sort of environment, ever doing something like listening to Milly Dowler's phone messages?
PM: Yes, I thought about that today. Initially when someone asked me I said, well, for the first time, I've always been really proud to have been a News of the World reporter, you know, the biggest circulating English-language newspaper in the world. But suddenly I felt a bit ashamed because of what the parents have gone through. But, in reality, I've been thinking about it, taking a step back, and it's not such a big deal. I mean, I was talking to someone from Kenya earlier today who said well, you know, the journalist might have helped. So they knew a little bit of extra information.
JP: Are you saying you don't think it was an invasion of privacy; you don't think it was a possible breach of the law; you don't think it possibly obstructed the police enquiry; you don't think it possibly caused distress to the parents? All of those things are outweighed?
PM: No, the mistake that was made was that, umm, he was so keen to get new messages, he deleted the old ones and that was dreadful and that alerted the family that someone was tampering with Milly's phone and so it could have been her. And I …
JP: Can you imagine yourself doing that in those circumstances at that time?
PM: You know, I'm thinking about the, well, no, I didn't anyway.
JP: I'm not suggesting you did. I'm asking; can you imagine yourself doing it, working at the News of the World at that time?
PM: Umm, I've got to say, when you're investigating something, you're really just trying to write the truth about an issue and, er, and you're looking for an exclusive and, if that is available, then… I've been thinking to myself "would I have considered taking information from them" – because, you've got to say, it wasn't a staff reporter who did that, it was a PI who has done it and then has rung up and said this is what's happened. Do I put my fingers in my ears and say "please don't tell me"? No, you don't, you listen. And you think "that's an interesting lead". And, but, no, I should be trying to defend the indefensible because it's not going to be a very popular position, but …
[Alistair Campbell speaks]
PM: People keep saying 'phone hacking', again, as if it's a big deal. I'd like, I'd estimate that at least 10% of the population have hacked into someone's phone. I mean, conceivably your girlfriend might have hacked into yours to see if you are having an affair. It's so easy to do. I mean, umm, a mother worried that her teenage son was staying out late might hack into his phone to see what he's up to. And that's now being made illegal. It never used to be illegal. It used to be fair game. You used to be able to sit outside Buckingham Palace listening to Prince Charles talking about ridiculous ideas.
[Alistair Campbell speaks]
[end of studio discussion on this issue]
---
Other Paul McMullan transcripts: