BBC 2007 Innovation Lab
Design and pitch an online service to notify people when something that they are interested in is coming up.
Client of Limitless Innovations
2007
For the second year running, we were one of ten companies short-listed from hundreds to attend the week-long BBC Innovation Lab for new media ideas.
With the help of mentors and experts, we worked on our idea throughout the week.
We made our 10-minute pitch at the end of the week of BBC Commissioners. Our idea was one of the few chosen to take forward.
Tell Me When
Tell Me When is an online service that notifies people on what they can read, see, do or visit based on their interests.
I originally had the idea for Tell Me When in 2002.
With BBC listings and event data, I saw an opportunity for the BBC to implement Tell Me When as a free service.
Evolution
At the lab, the BBC wanted to add a social aspect to Tell Me When, rather than it just be a notification service.
We introduced the idea that people can come together in Before, During and After pages for an event, such as a televised football match or concert. We illustrated the idea by using the scenario of a father and son getting together on Tell Me When, when the son was away at university.
Presentation
Frank wrote the presentation text. I created the presentation in the form of a web site for show pages as slides. This involved mocking up pages from the online service and collecting graphics to tell the story.
I also created a script for Frank and I to sue to show when I had to advance the slides during the presentation.
Lab submission
This is our original submission of the idea to the BBC. We had to submit ideas according to specific project categories and template.
BBC Innovation Labs - 2007
Nations and Regions
Localness on bbc.co.uk - There are currently 55 separate 'Where I Live' websites on bbc.co.uk containing a mix of local news, sport, information and community content from across the UK. We want to increase the reach of this content by providing it in the most useful forms for our audience to use. How can we offer local content in more innovative and flexible ways on bbc.co.uk and to engage with, and reflect, the relevant local content and conversations taking place on the web?
Approach
One currently has to hunt for content and events that one is interested in.
Instead, allow people to say what they're interested in and let the content go to them.
Aggregate Where I Live content so that it can be explored and searched by category across location. E.g., aggregate local content and provide specialised search for news, sport, travel, weather, entertainment, message board, Video Nation, In Pictures, Webcams, Features, Faith.
Users can request updates to be sent to them which match their interests. They enter their interests (e.g., sport: Football, entertainment: David Tennant, video nation: students, ), their choice of update medium (e-mail, IM, mobile, web) and how far they're willing to travel for an event matching their interest.
They are sent content updates as soon as they become available (e.g., David Tennant to host the Children in Need Doctor Who concert).
User Need
People shouldn't have to hunt for things that interest them by visiting
(micro)sites by publisher, venue, or geographic location.
By being able to register interests in one place, relevant and trusted content and events can be sent to people drawn from Where I Live content. This is a convenience that would save people time.
Benefits
It exploits existing BBC content. It would also allow the BBC to track what people are interested in and how people would like to receive updates.
Once one registers interests, other things can be suggested based on similarity searches ("10 people who expressed an interest in [this] were also interested in [that]").
Competition
Although it is common to see web forms to "register your interest" or "sign up for updates", these are always specific to a company, organisation, venue (e.g., Barbican) or type (e.g., antique fairs).
We know of no place where people can receive updates to aggregated content once they register their interests.
---
First page of the script for the final presentation to BBC Commissioners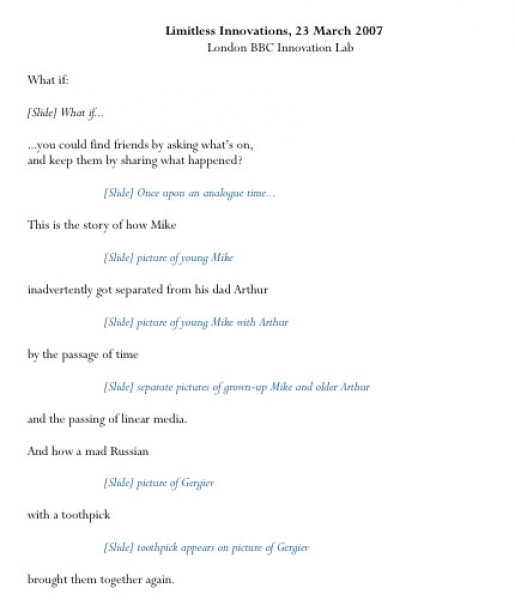 First slide of our presentation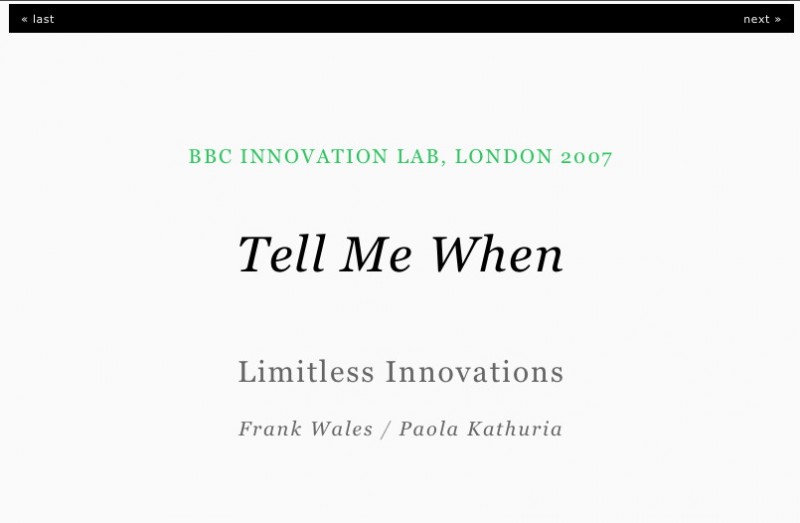 Presentation slide introducing the father and son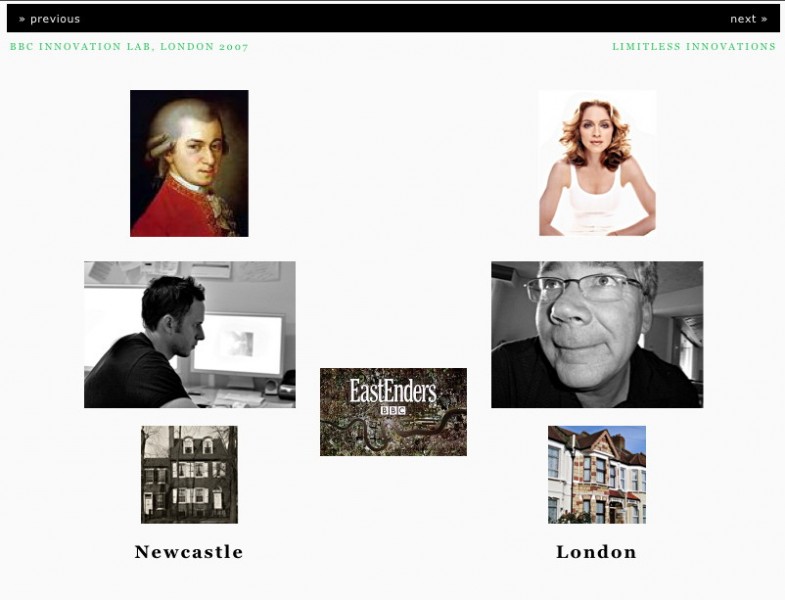 A mock-up of a page of upcoming events on a presentation slide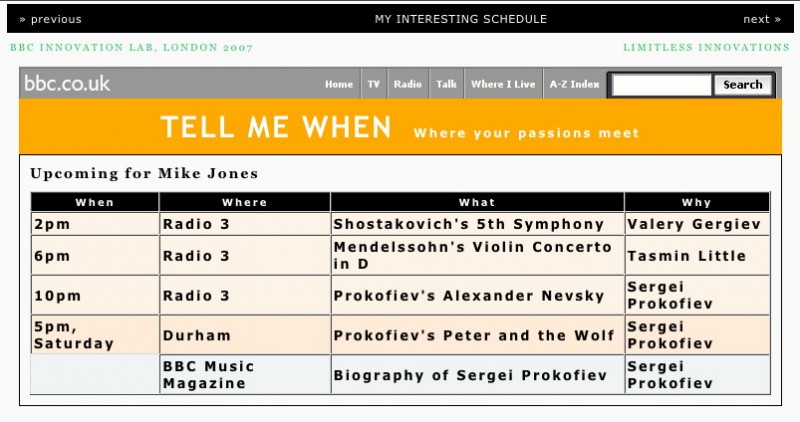 A mock-up of a page showing a shared event on a presentation slide