Millennium Experience web site
Limitless formed a consortium with with longitude0 and Denison Design and won a 40-way pitch to design and build the official web site for the New Millennium Experience.
At this time - in 1997 - the building had been designed but the experience inside had not.

The site structure that Paola had put together for the proposal was chosen as the structure to launch the site with.
Denison Design hired extra design staff to provide a number of design routes.
Paola advised Denison on the navigation design by providing some rules to maximise way-finding.
each main section has its own colour
the section colour is applied to all headings and decorative graphics within the section
each main section has its own graphic
global and navigation link graphics have selected & unselected states
The chosen design featured different coloured shapes which opened up to reveal their contents, each relevant to the site section. Denison also created individual graphics for the sub-section pages.
Functional decoration
Taking The Dome section of the web site, this is how section and depth were conveyed through the design.
Firstly, each section was colour-coded. The colour was applied to site graphics and heading colours.
Next, a page's depth was conveyed by navigation and page header graphics.
Level 2 page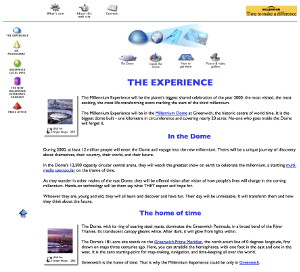 Level 3 page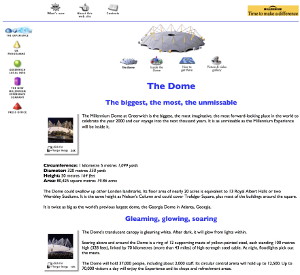 Level 4 page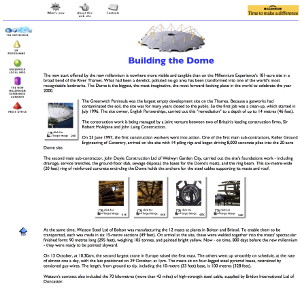 In these pages, the side navigation and page headers change.
Tessa Denison animated the main page header graphics, including a capsule at section pages opening up to reveal the contents.
Level 2 page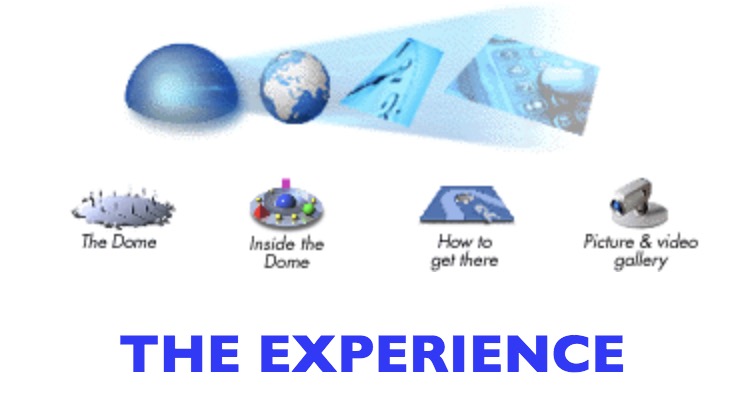 Level 3 page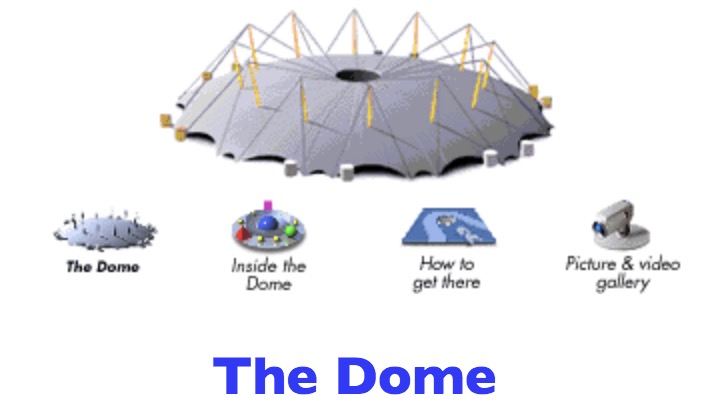 Level 4 page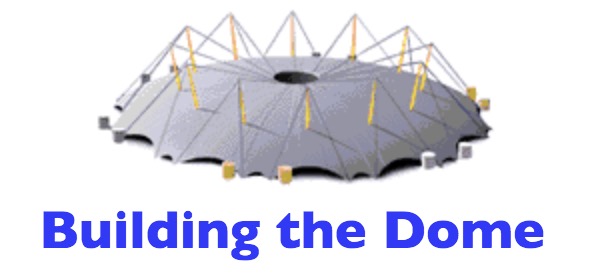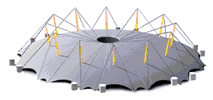 Navigation menu on the home page (level 1)


Navigation menu on a level 2 page
The selected icon is glowing.

Navigation menu on a level 3 page
The capsule is open.

The third part of the consortium - longitude0 - provided administration services.
Paola wrote the specifications and estimates and managed the site updates.
---
Home page (graphic design by Denison Design)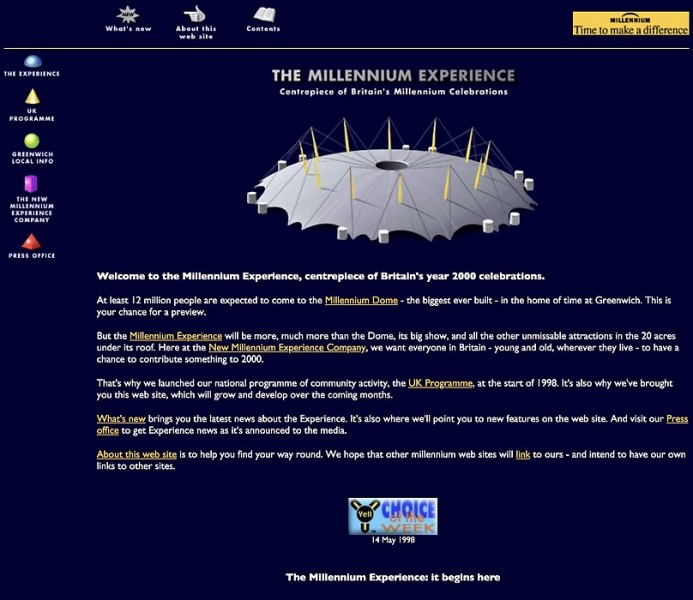 Level 2 page, The Experience (graphic design by Denison Design)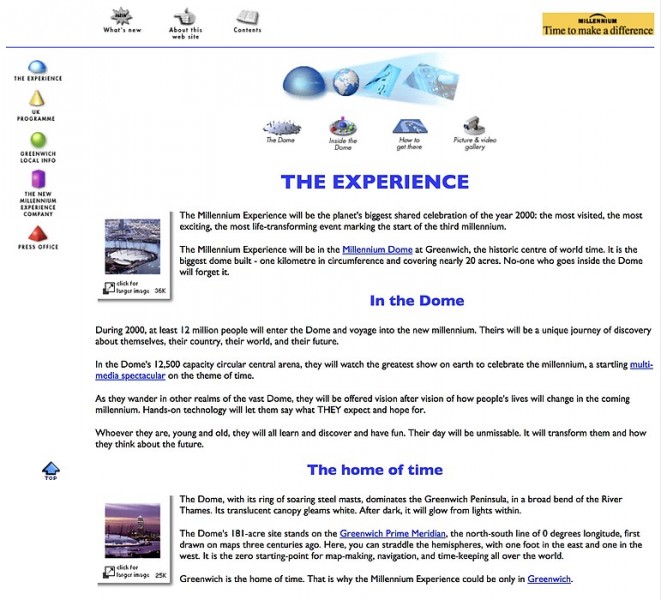 Level 3 page, The Dome (graphic design by Denison Design)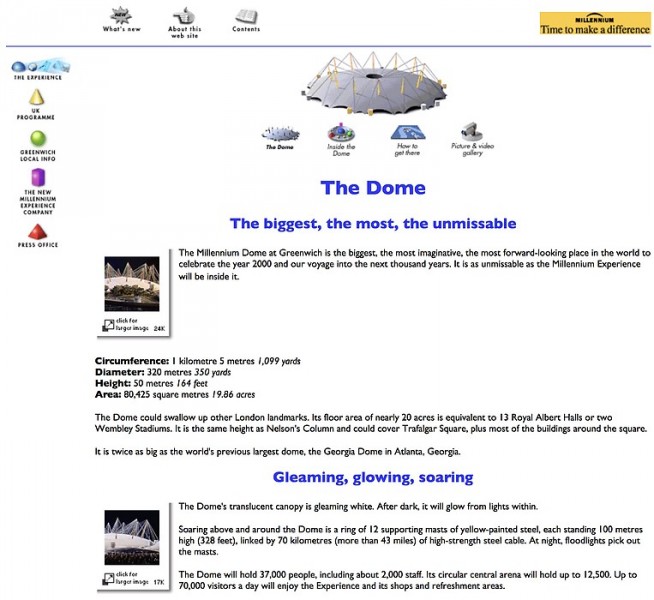 Level 4 page, Building the Dome (graphic design by Denison Design)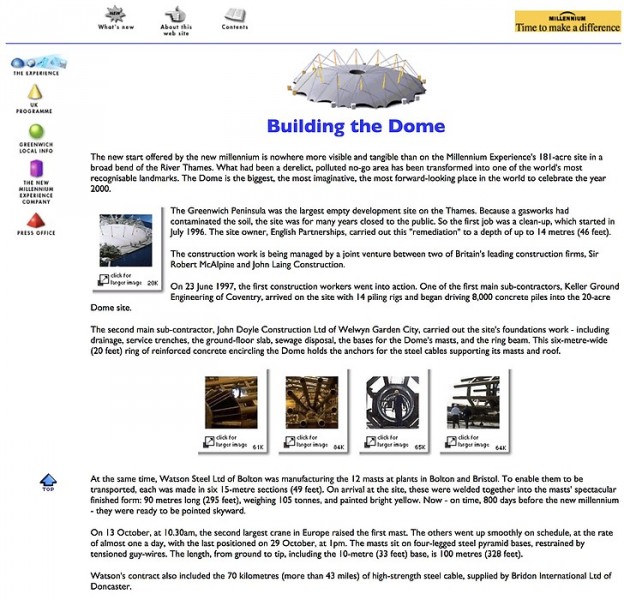 Level 2 page, Greenwich Local Information (graphic design by Denison Design)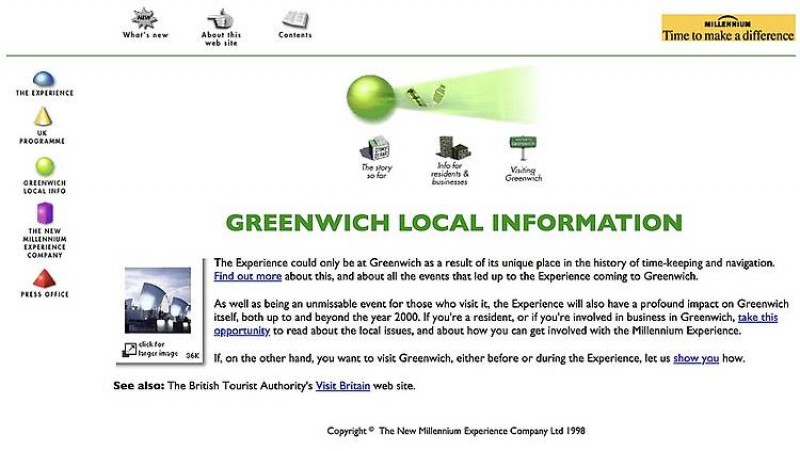 Level 3 page, Greenwich in Time (graphic design by Denison Design)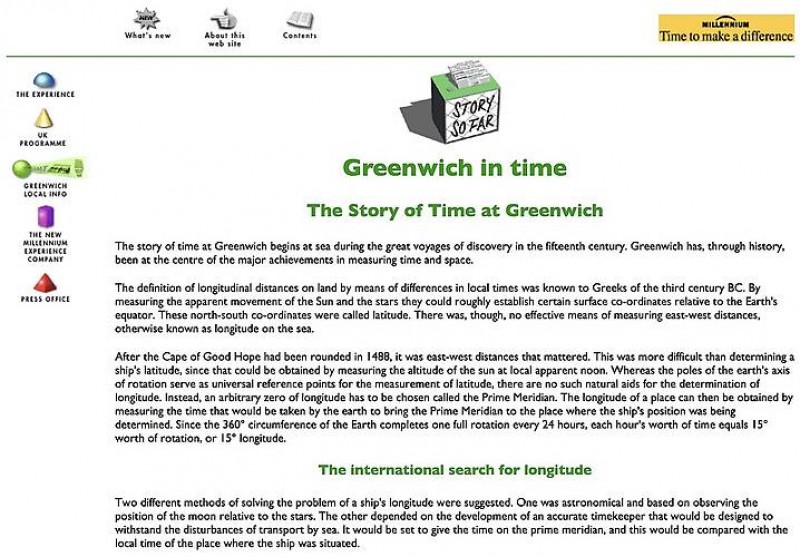 Level 2 page, UK Programme (graphic design by Denison Design)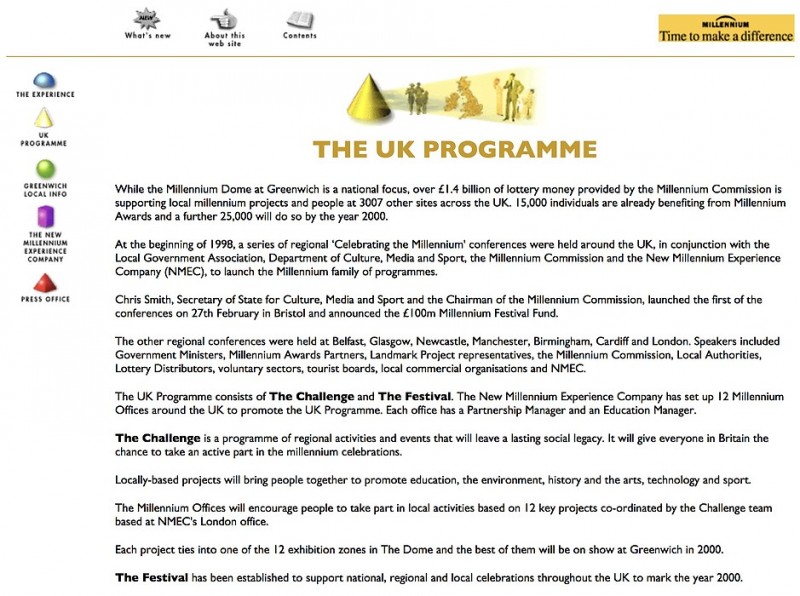 Level 2 page, NMEC (graphic design by Denison Design)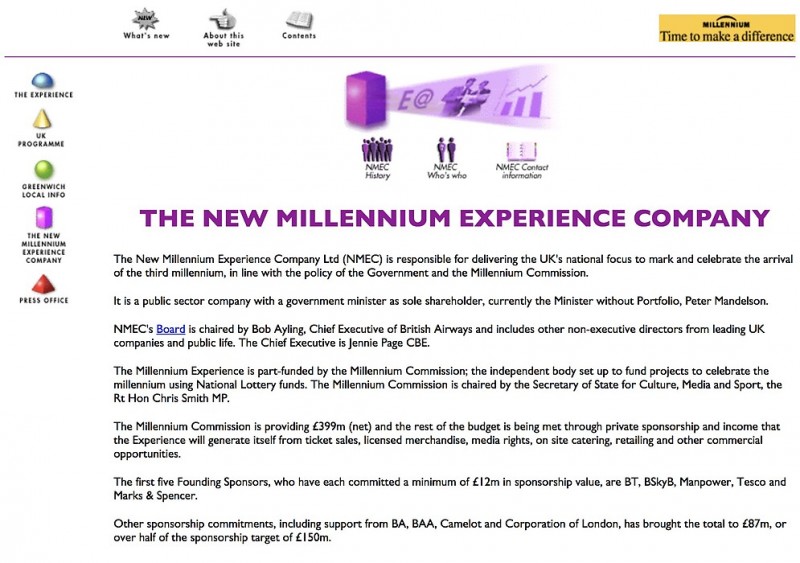 Level 3 page, Who's who in NMEC (graphic design by Denison Design)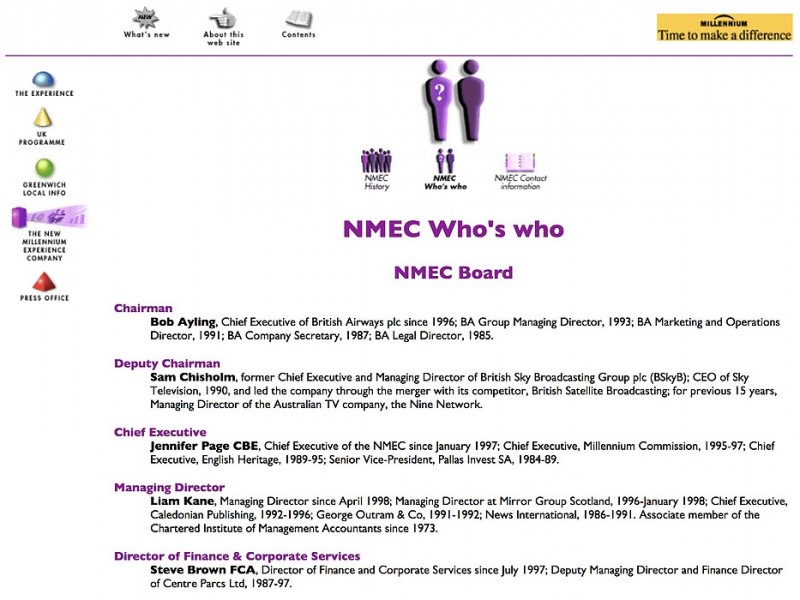 Level 2 page, Press Office (graphic design by Denison Design)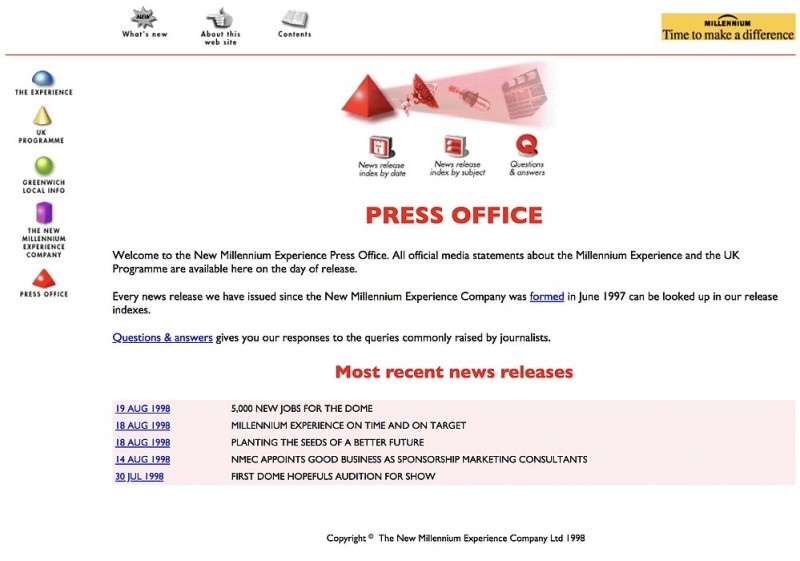 Level 3 page, News Releases (graphic design by Denison Design)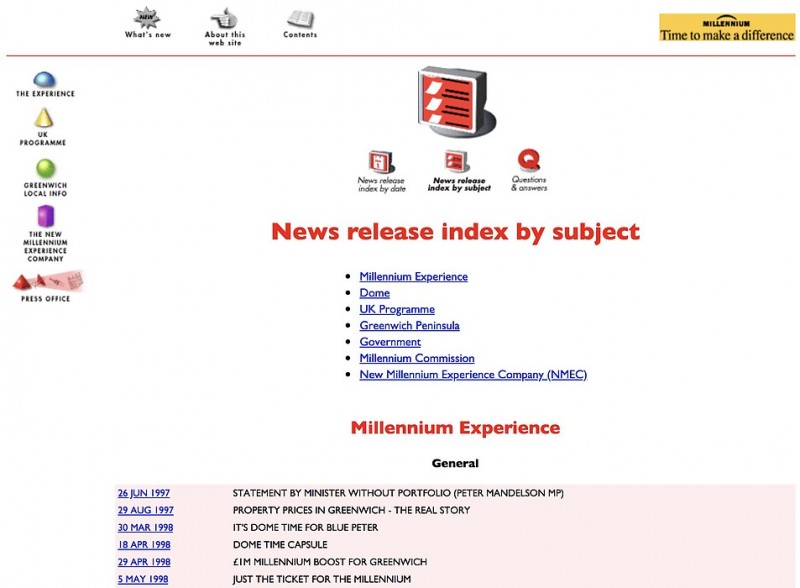 Site structure diagrams in the proposal