Polymer clay rose earrings freshwater pearl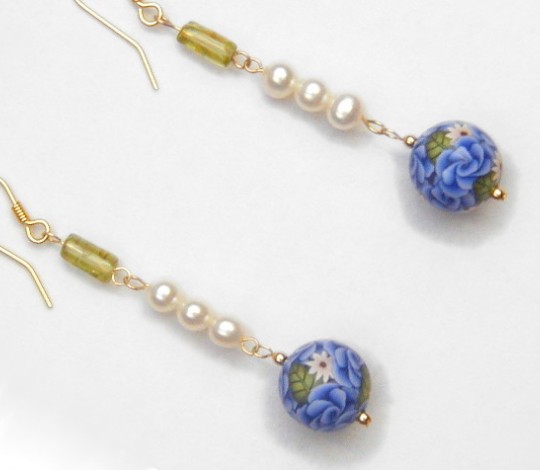 Colours
Gemstones
Materials
Designed
Oct 2004
Ref

Ref:

e149
Description
These earrings feature stunning hand-made beads by Catherine Steele. They are covered by gorgeous roses in a soft purpley blue, small white flowers and vignetted green leaves.
The incredible floral pattern hasn't been painted onto the bead; it has been created using the millefiori technique with polymer clay. Patterns are made in canes which are rolled and stretched. Thin slices are taken from the cane to cover a bead base. The beads are eventually tumble-sanded and then buffed to a high shine.
The beautiful rose beads are accompanied by creamy freshwater pearls and semi-precious peridot. The hooks are gold-plated sterling silver; the wire and small beads are gold-filled.