Hand-made earrings showing the planets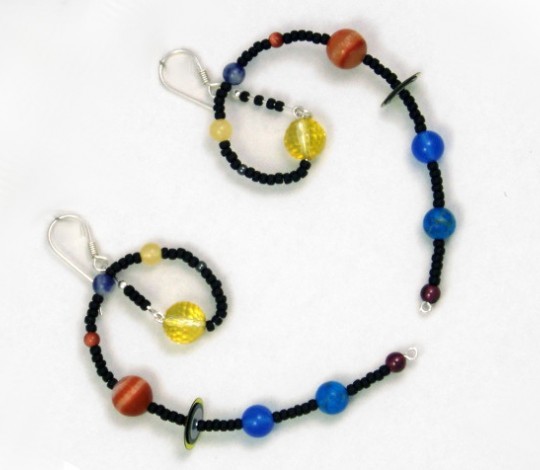 Size
6cm (2.4") long, 4.5cm (2") wide
Gemstones
Materials
Designed
Sep 2005
Ref

Ref:

e209
Description
These hand-made earrings were conceived and designed by me and my husband last year. The earrings represent the sun, moon and planets in our solar system using semi-precious gemstone beads.
We have chosen beads which represent the actual colours and, to some degree, the relative sizes of the celestial bodies. They have been arranged in the Golden Spiral.
The earrings are designed to lie flat against your head. From the front, you will see the Sun, Mercury, Venus and Earth.
>Sun, 8mm faceted citrine
Mercury, 2mm hematite
Venus, 4mm honey jade
Earth, 4mm denim lapis
Moon, 2mm sterling silver
Mars, 3mm goldstone
Jupiter, 8mm red malachite
Saturn, 6mm, 8mm, 10mm sequins
Uranus, 6mm blue onyx
Neptune, 6mm turquoise howlite
Pluto, 3mm garnet
The wire and hooks are sterling silver.