Amazonite, peridot and enamel lariat necklace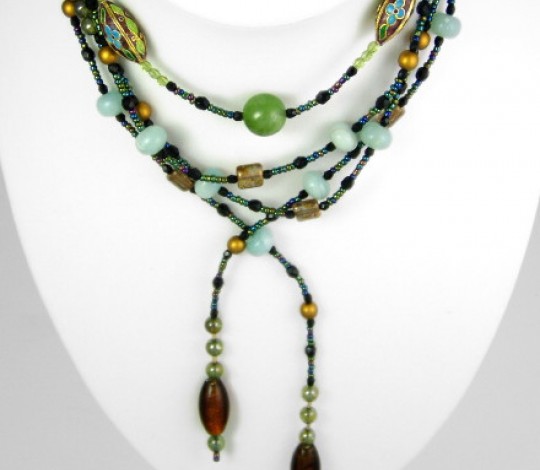 Description
This lariat is made with semi-precious sky blue amazonite and large peridot gemstone beads. This necklace also includes lime green South China jade.
The peridot was bought for me from Pakistan and I've not seen peridot beads this big before; they look like they've just come out of the ground. The central peridot bead is huge at 12.5mm.
I've matched the amazonite and peridot with enamel and various glass beads. The enamelled beads are decorated in abstract and floral patterns in turquoise, emerald green and lime green against a warm brown background.
The glass beads include silver-lined glass, frosted matt gold rounds, faceted opaque black glass, faceted peridot glass and Picassos, beads with a special lustrous coating.
These main beads are separated by tiny glass beads in colours of metallic blues, greens and purple.