Gemstone and silver lariat necklace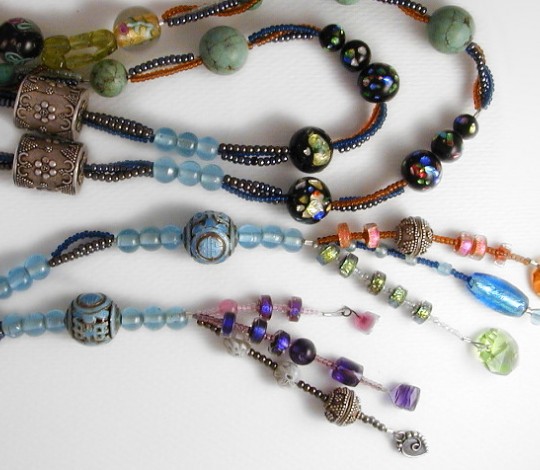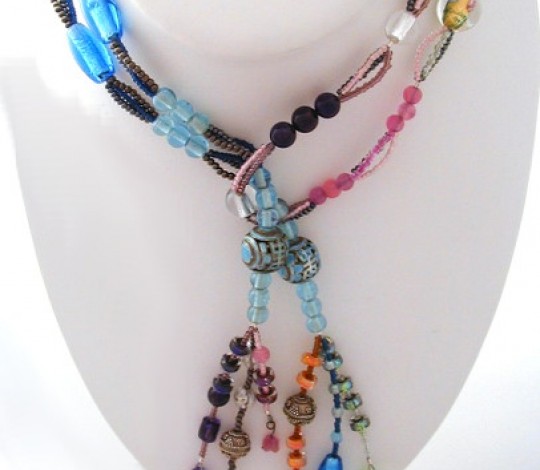 Description
I made this three-strand lariat with beads I've collected for nearly 25 years.
Featured beads include fine-quality Chinese turquoise, Japanese foil beads (crumpled coloured foil encased in black glass),large heavily-decorated sterling silver cylinders, Bali silver, coloured crystal and sparkly colourful dichroic glass.
The tassels are made up of six differently-coloured strands: white/silver, purple, pink, green, aqua and orange. After the tassels, the colours go from blues, black, turquoise, green, pink and purple.
The lariat has been made using three strands of strong thread (nylon-coated steel strands). One of the threads has tiny black beads between the main beads throughout the length of the necklace. The other two strands take their colours from the surrounding main beads.
Tassels:
Bali silver heart
Bali silver rounds (11mm)
Amethyst faceted barrel
Dichroic glass
Crystal octagons
Millifiori glass
Pink jade (6mm)
Silver lined-glass
Necklace (from the centre):
Amethyst rounds (8mm)
Silver-lined glass (10mm)
Pink jade (6mm)
Gold- and black-lined glass (12mm)
Peridot (ovals & rectangles)
Chinese turquoise (7mm-14mm)
Japanese foil glass (8mm-14mm)
Sterling silver cylinders (18mm x 15mm)
Silver lined-glass
Chinese enamel (15mm)