Until this morning, I hadn't decided which crowdfunding platform to choose between Kickstarter and Indiegogo for my campaign starting tomorrow. I want to raise the money to print my erotica as a book.
UPDATE: My campaign was successful!
Here are the pros and cons I noted yesterday evening.
Indiegogo
Kickstarter
-
fewer visitors
+
more visitors
+
fail in obscurity
-
fail very publicly
+
erotica not connected to future Kickstarter campaigns
-
a past erotica project could put off backers of future unrelated projects
-
this campaign's success not shown in my Kickstarter project history
+
a successful project in my project history generates confidence
-
~35% success rate
-
~45% success rate
+
accepts Paypal
-
doesn't accept PayPal
+
don't have to register to pledge
-
have to register to pledge
+
can pledge anonymously
-
change display name to hide real name
-
collects payment immediately
+
takes payment only if campaign is successful
-
default pledge set to $100 (what the!)
+
default pledge amount is blank
+
easier to get onto the home page (no curated lists)
-
most of the home page projects are curated lists - visitors have to scroll to the bottom of the home page for popular projects
-
lots of crazy projects
+
better reputation
-
not very well known
+
best-known crowdfunding platform
-
only provides names and e-mail addresses of backers as a downloadable file
+
provides tools to mail surveys to backers of each pledge level
-
icky campaign e-mailed updates
+
nicely-presented campaign e-mail updates
-
not Kicktraq-able
+
Kicktraq-able
+
can name pledge levels in a separate field
-
just one text field to describe pledges
+
two people told me my project was better suited to Indiegogo
+
very few erotica projects but some successes
Format of e-mail updates for backers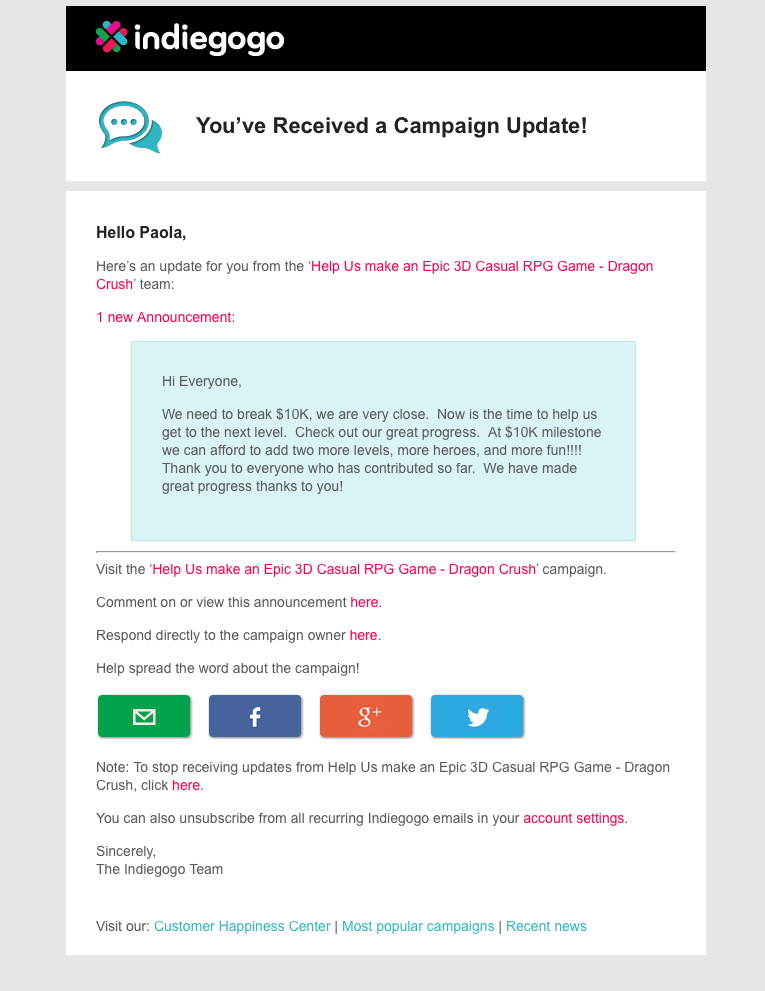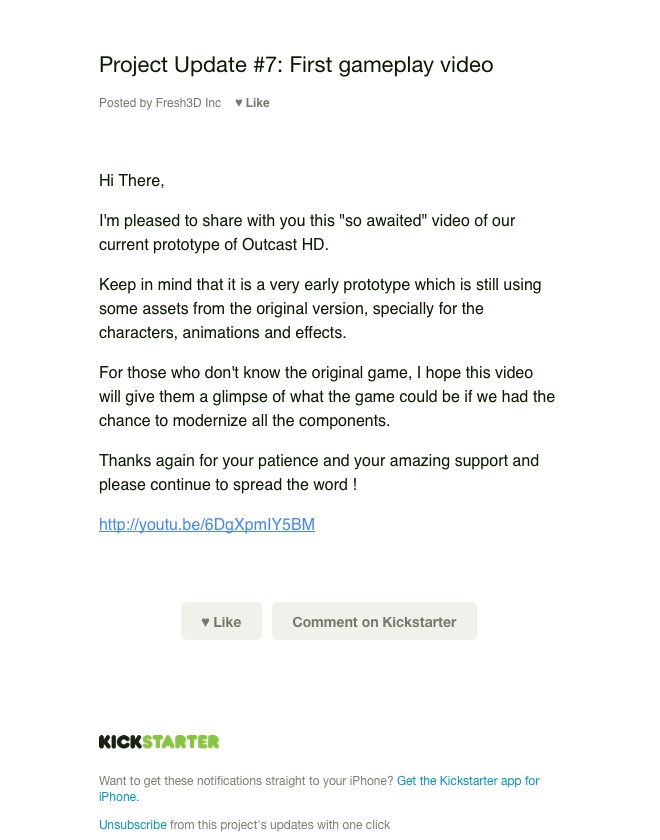 Only the text in the blue box is the actual update from Indiegogo. Whereas most of the mail in a Kickstarter message is the update text.
Dashboard
The screenshot below is for an unlaunched Indiegogo campaign, but you should get an idea of what stats are on offer for campaign owners. (My Kickstarter campaign isn't live yet - I don't have access to the dashboard.)