How to start and end a lariat
paolability.com
2007
Arts & crafts
This is an illustrated guide on starting and finishing the ends of a lariat necklace plainly, without tassels. There is a separate guide on how to make a lariat with tassels.

A lariat is a long open (clasp-less) necklace which can be wrapped several times around one's neck, leaving the ends dangling.
I make lariats between 60" and 95" long.
Materials
Soft Flex (nylon-coated steel strands) - medium or fine, if using pearls
Size 11/0 seeds beads (I put either 5 or 10 between the main beads)
2mm x 2mm crimps
crimp covers (optional)
crimping pliers
In these examples I use 6mm Picasso glass rounds, 8mm x 7mm Picasso pillows, 8mm faceted Picasso rounds and a 10mm x 20mm foil-lined oval.
I find that the combination of 6mm-8mm beads with a large bead provides sufficient weight for the ends of a lariat.
Start the lariat
1) Cut a length of Soft Flex beading wire for your lariat. Add 6" to the desired finished length.
Thread the beads which will be at the end of the lariat, including two crimps, separated by one or more beads.
Finally, thread three seed beads. Except for the seed beads, all of these threaded beads must have holes big enough for the beading wire to go through twice.
Do not crimp yet.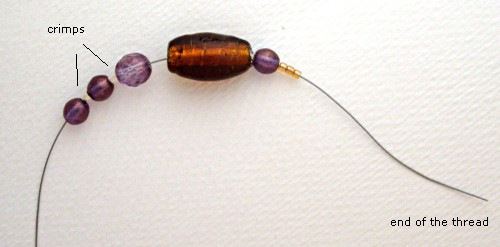 2) Start to thread the Soft Flex back through the beads, starting with the bead before the seed beads.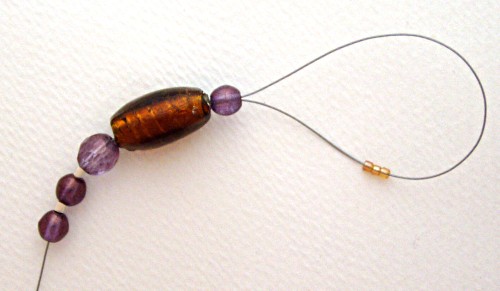 3) Pull the wire through all the beads and crimps. Pull the wire tightly and crimp both crimps.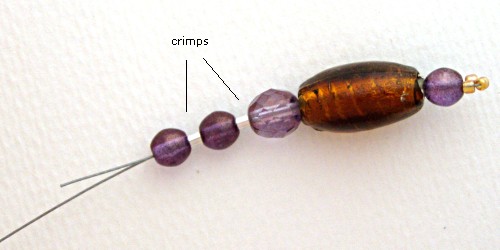 4) If the next beads you will thread have holes big enough for both pieces of wire, leave the wire uncut; the longer excess, the better. Otherwise, move the top bead out of the way and trim the wire so that it is just shorter than that bead.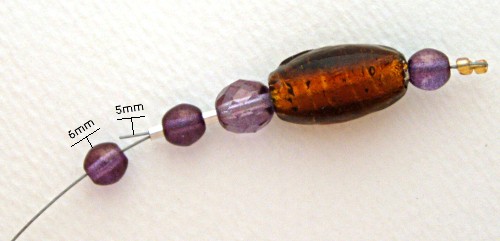 Thread the rest of the lariat
See my separate guide on how to to make a design and make lariat with tassels for a guide to my own design process.
Finish the lariat
5) After beading your lariat and you reach the other end, start to thread the end beads, including the two crimps and the final three seed beads.
Don't crimp yet.



6) Thread the Soft Flex back through the beads in the opposite direction.
If the wire can continue through the seed beads then continue threading back through the beads as you can go; the longer the better.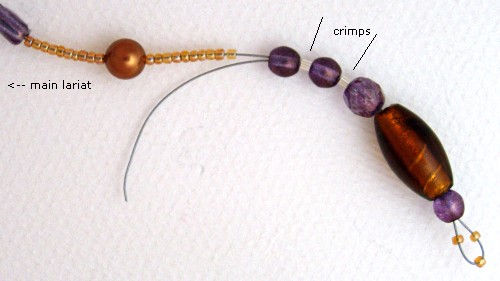 7) Pull the wire through tightly.
Make a final check of your lariat by putting the finished end on the floor and raising the other end vertically above it. Ease all the beads down so that there are no gaps between the beads.
Tighten the unfinished end again. Repeat if necessary.
Crimp both crimps and cut off the excess wire.

There is a separate guide on how to make a lariat with beaded tassels.