I know that the nurses and doctors are "just doing their job" but, when they are dealing with people's dignity, let alone their lives, I can't help but appreciate a job well done.
They made my life comfortable - saved my life, even - through their skill; it seems appropriate that I show my appreciation using my own skill, through my jewellery.
I am giving jewellery to the medical staff who looked after me once my involvement with them is over. I don't need more surgery and I can therefore thank the staff at the Short-Stay Surgical Unit at Heatherwood Hospital in Ascot.
Surgical ward staff
This Monday, the same day of the week I had my surgery, I made a package with ready-made jewellery plus three cord necklaces featuring glass and shell pendants. I addressed the package to the nurse who spent the most time with me, who looked after me when I was sick after my surgery, soon after I'd eaten the cheese sandwich.
In a note, I asked this nurse to take the jewellery she liked and to pass the rest on to two named people, another ward nurse and the physiotherapist. Whatever jewellery was left could then be passed on to the other nurses on the ward.
I had only spent 10 mins with the physiotherapist but she made me laugh. She had lovely naturally wavy hair. While I was telling her that I liked it, I realised that she was likely one of those wavy-haired people who wished they had straight hair. This turned out to be the case. :-)





Surgeons
Miss P. the surgeon always wore expensive-looking gemstone necklaces, several strands, always fairly long. I think that the first time I saw her, she was wearing two co-ordinated necklaces. Last week, she wore a long white multi-stranded pearl necklace with a big feature knot on one side.
I had always known that I would make a necklace for her, whatever the outcome of my surgery. To design and make something that she would actually wear would be an honour.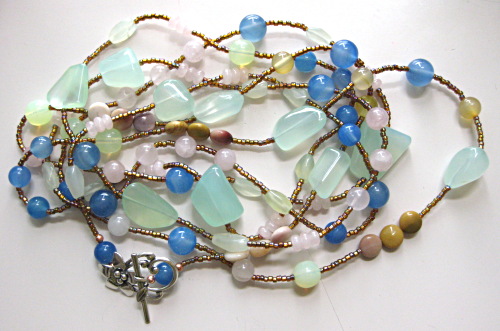 Other than making commissioned pieces to match purchased items, I haven't made jewellery since May 2009.
For my first attempt, I chose pastel colours for the main beads - rose quartz, chalcedony and agate - and contrasted these with golden-purple seed beads. It's an interesting necklace but too girly for Miss P.
With not enough light to make more - even with a daylight craft light - I tried again the next day.
I chose an old favourite combination - turquoise with gold. The second necklace uses turquoise and smoky quartz gemstone in various shapes and sizes, contrasted with 'aquamarine' seed beads. If Miss P. liked turquoise, then I was sure she'd like this necklace.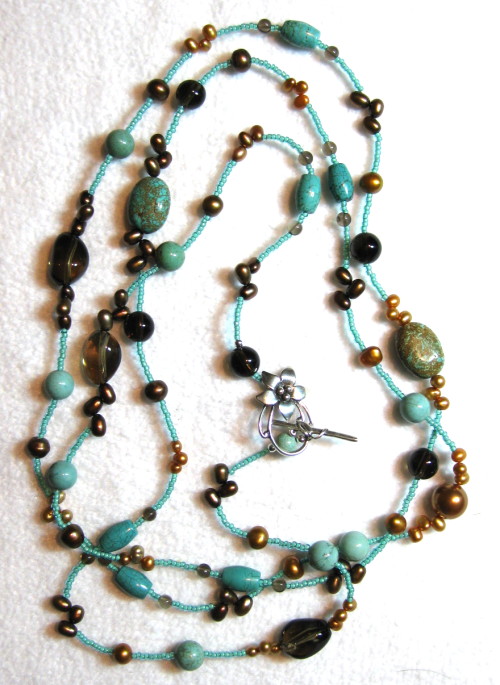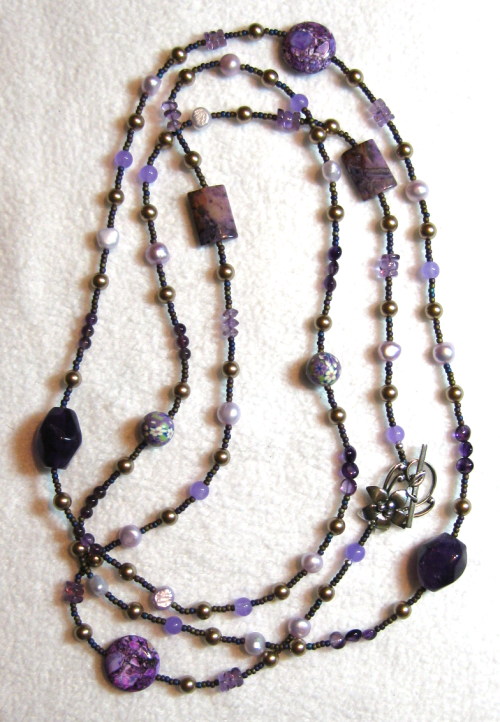 I made another necklace for the second surgeon whose black pointy shoes I noticed when she came to talk to me before my surgery. This necklace combines various purple feature beads with browns and golds, and amazing purpley-brown Japanese Miyuki seed beads.
Anaesthetists
Finally, remembering the Hungarian anaesthetist who come to see me before surgery and who I'd made laugh by counting up in primes before being given any anaesthetic, I made cuff-links.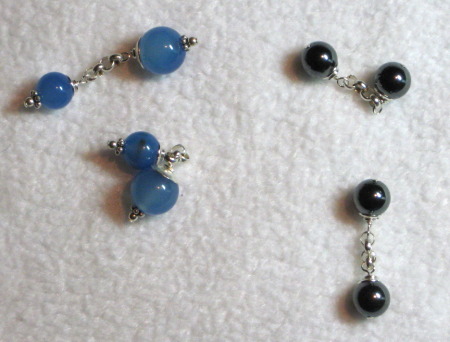 One pair in dreamy blue agate and another using hematite. I made two pairs for the other anaesthetist too.
I prepared a package with a note to Miss P, saying that the anaesthetists might remember me as the patient who counted in primes. I left it at the clinic reception yesterday when I went to see the oncologist.
I don't expect to hear from any of them - I know that they're busy - but I am happy that I can give them something nice that is unexpected, that makes them smile.
I'll be seeing a whole new set of nurses and doctors during my therapy and so I expect to send these people jewellery in six months or so, as well as to the five Breast Care Nurses at The Parapet in Windsor.