I gave my second speech at Windsor Speakers Toastmasters in January 2014. It was for Project 2 "Organise your speech" from the Competent Communication Manual.
Transcript follows.
---
When I meet people for the first time, I usually see a question in their eyes: why is your hair blue?
If they're brave enough to ask me the question, they're usually disappointed with the answer.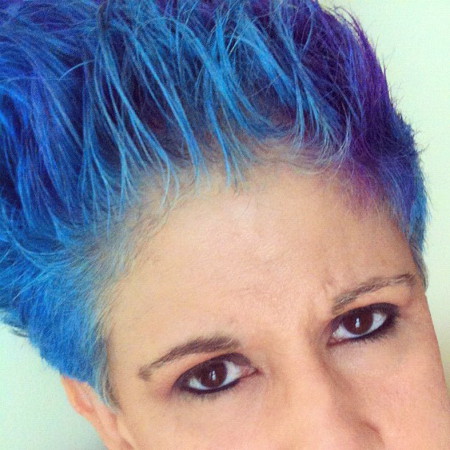 Why is your hair blue?
Because that's the colour I dye it.
I answer the question they asked, not the question they intended: why have you made your hair BLUE?
To know the answer to that question, you have to know what happened to me four years ago.
However, the story of my blue hair starts forty years ago.
Why is your hair blue?
Because if I didn't dye it, it'd be white, and who wants white hair? (Once said to a man with white hair.)
I inherited thick dark hair from my Indian father. But it started going white when I was a child.
By the time I got to university, it was about 5% white. I put pink dye on it, which had no effect on my dark hair but, in the sunlight, the white transformed into bright flashes of colour.
By the time I was forty, my hair was about half white and I was dying it a plum colour. And it was a plum until about four years ago.
Why is your hair blue?
It's my favourite colour.
I love turquoise, which is a greeny blue. I have had other phases in clothes of green, pink and purple, but my love for turquoise has never diminished.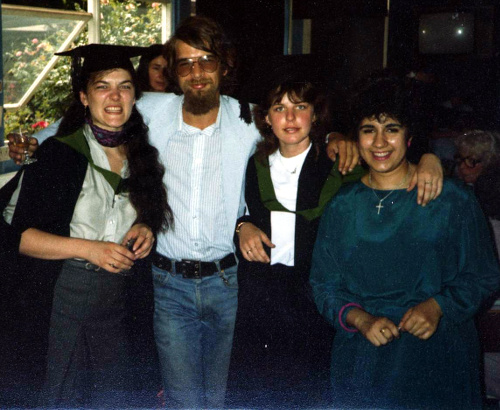 When I was at university, female students were told to wear white blouses and dark skirts underneath their graduation robes. I didn't think it was right that I should look like a schoolgirl after having spent three years at university. So I went out and bought a bright turquoise dress.
When I had a fountain pen, I wrote in turquoise ink.
And when I had my wedding ring commissioned, I had real turquoise put inside it.
I think that my love of turquoise is very basic; I think it's hard-wired into my brain. It seems to be pre-conscious. I'll find myself drawn to a piece of art or some jewellery and only later realise that it is turquoise.
Why is your hair blue?
I think I'm turning into my online avatar, Poot Dibou.
I discovered Second Life in 2007. Second Life is an online virtual world where people meet to chat, dance, play and create.
In Second Life, I spend 95% of the time chatting and the rest on my avatar, Poot Dibou.
Poot originally started off with some things from me, five foot two and plum hair. Otherwise, she started off in a turquoise outfit.
Over time, I amassed a large collection of outfits for Poot. Outfits in Second Life mean clothes, wings and hair. In a couple of mouse clicks I could even tint Poot's hair to match her clothes.
I began to see Poot as a blank canvas for self-expression.
Why is your hair blue?
It's actually not my hair, it's a wig.
Four years ago, I knowingly had cancer for five weeks. Five weeks was the time between my diagnosis and the results after my lumpectomy when I was told that they had taken the whole tumour out and that the cancer hadn't spread. I actually didn't have cancer anymore.
But there's a belt-and-braces approach to cancer treatment and I took everything that was on offer, which was chemotherapy, radiotherapy and hormone therapy.
I decided to treat my impending hair loss as an opportunity for adventure.
I searched online and I found an eBay seller from Hong Kong who sold wigs for costumes and fancy dress. I made a short-list of wigs that I liked and posted them to my blog, where I was keeping my friends and family updated with my progress.
My short-list included a Lara Croft wig from Tomb Raider, colourful spikey wigs from Japanese role-playing games and (I love this phrase) an Oompa Loompa wig from Willy Wonka and the Chocolate Factory.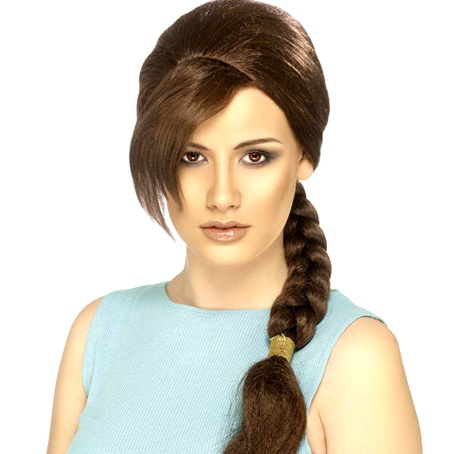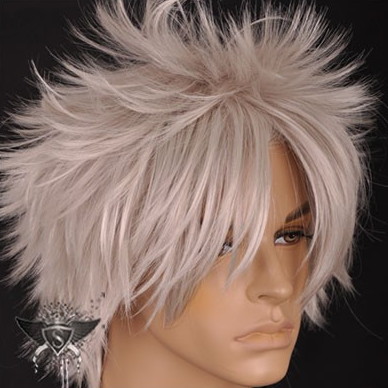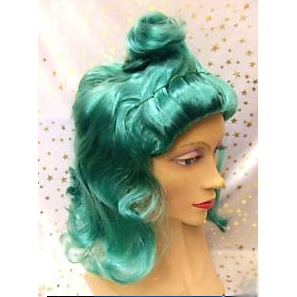 Surprise! I bought a blue wig. $18 from Hong Kong including shipping, which is a bargain!
And here it is! [I hold up the wig]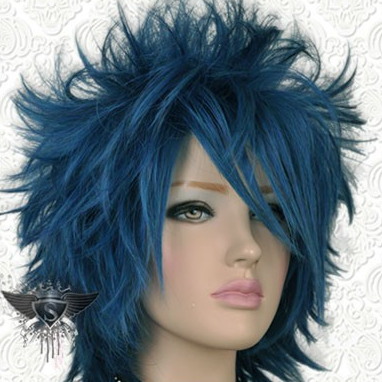 Why is your hair blue?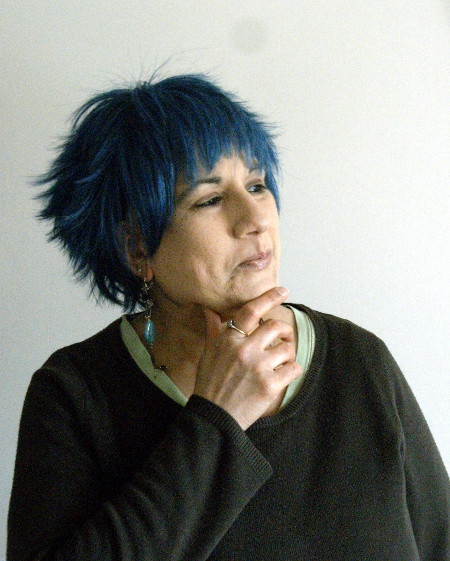 It's my chemotherapy wig.
I was really surprised that people thought that this (holds up wig) was my real hair. What, a middle-aged woman would dye her hair blue?!
I was even more surprised that my neighbours in Sunningdale, including an 84 year-old, thought that it suited me.
When my hair grew back, it grew back - initially - pure white and so soft that I thought I could charge people to touch it.
Just over three years ago, I was on a bus and a young in her twenties offered me her seat. As she got off, I said to her "why did you offer me your seat?" She looked up and said "your white hair."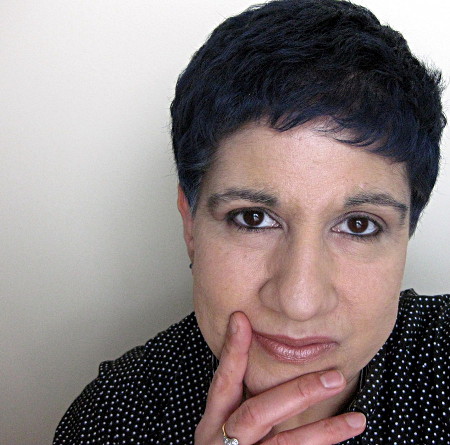 I didn't want to look older so I rushed out and bought some hair dye - navy this time, not realising that it was permanent. It took six months for the colour to fade.
But, inspired by Poot, I started to experiment with colour: pink, purple, green but always with turquoise.
So, finally: why is your hair blue?
Because when my prematurely white hair grew back after chemotherapy, I decided to dye it my favourite colour.