I am due to have my second (of six) chemotherapy sessions tomorrow morning.
It's a Bank Holiday today and so I was not able to go to my local hospital for my pre-session blood test to check that my white blood cell count has recovered enough.
Instead, we first have to go to Slough early tomorrow morning for the blood test and then on to Windsor to await the results.
Side-effects
The last three weeks haven't been what I expected. I've felt mostly okay and progressively better as the weeks have passed.
The first week was punctuated by loss of appetite, nausea, apathy and feeling cold.
The second week marked the end of the apathy, less nausea, less cold, fatigue and hair starting to come out by the end of the week.
The third week saw the return of feeling cold (although it is actually cold here again), return of appetite, more fatigue and less hair.
Fatigue is an issue: I sleep a lot. And, no matter what time I get up, I get very sleepy around 9pm.
The side-effects are meant to be accumulative during chemotherapy and, from what I've read on the BreastCancerCare forum, the side-effects after my second session could be my worse.
Feeling cold
My hands and feet feel very cold most of the time. I go to bed with a hot water bottle (actually, a microwaved wheat bag). During the day I've been wearing my winter clothes of vest, t-shirt, jumper and cardigan, two pairs of socks and mittens.
It's very tiresome being cold all the time but I am aware it could be a lot worse.
Appetite
I didn't have much appetite the first week. I quickly got into the habit of having a banana for breakfast even though I didn't feel like eating. I ended up eating two main meals for the first two weeks.
I've put on the three pounds I lost in weight the first 10 days after chemo. I suspect that my weight will continue to go down and up after each chemo session.
I continue to want crunchy things (crisps) and have gone off sweet milky tea; I used to have 3-4 cups a day.
I think that milk-products are what are making me nauseous. I made a meringue pie using condensed milk for the filling and feel sick just after a spoonful.
I'm supposed to be drinking a lot of water but it's not hard to do as I'm often thirsty.
Hair
Towards the end of the second week, I noticed that my hair was coming away in the shower. If I gently pull a tuft, strands of hair come away. It's not the case that my hair is falling out but that it is putting up no resistance to remain.
Some hairs are putting up more of a resistance and so after an absent-minded session of thinning my hair while watching TV, I have a lot less hair but no bald patches.
I don't have a hair-style that requires brushing or combing - I haven't washed it since it started coming out. I am now trying not to touch it so that I will still 'have hair' at my next chemo session.
My scalp is sore in places and I am assuming it's those follicles that are putting up a fight. And, even though I know that they will lose the fight, not pulling my hair out seems a strange way of honouring them!
Wigs
I called my Breast Care Nurse about getting an NHS wig. It turns out that the NHS subsidises wigs for chemo patients who have to pay £60. I mentioned finding cheaper wigs online and the nurse said there was a costume shop in Slough where some chemo patients go for their wigs.
I thought it'd be a way of trying on the kinds of wigs I'd found online. In the end, they only had one coloured wig (bright blue) which didn't suit me. I tried various brown/black styles and bought a dark short-styled wig for my peace of mind - my back-up wig - for about £22.
I'm otherwise going to buy #3 from my wig gallery (although I hadn't realised that the seller is in Hong Kong).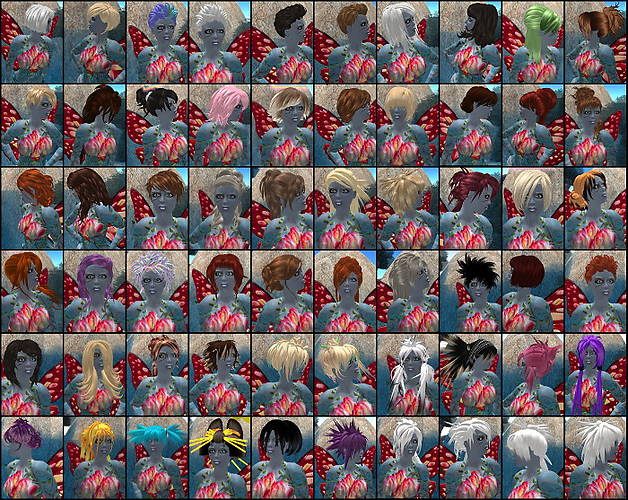 I think that I am so open-minded about wigs because of all the time I've spent creating my avatars in Second Life. There, things like hair and tattoos are more about decoration. Sure, they still have to represent "me" but I can change appearance there - to shape, skin and hair - according to my mood.
Out and about
Ascot Racecourse had a free Open Evening for people to wander around and look at the facilities. A thousand people turned up. I didn't see any ill-looking people that I had to avoid (chemo lowers the immune system). But I did have to stop myself helping myself again to wasabi peas after I realised that many people had their fingers in the same bowl.
The front of the racecourse smells of honey from the jasmine bushes. Glorious.
A week later, there was a free meeting at the racecourse, which we attended. I hadn't realised that people come with the families and picnic.
A couple of days ago I was invited to join friends for dinner and the theatre to see The History Boys because of a spare ticket. A lovely evening although I found my mind wandering a couple of times during the play - it takes a while to get used to the pace of a play after the frenetic pace of TV.
I'm hoping that my next session's side-effects won't be too bad; I'd like to be able to make some concrete plans to see my friends.