My favourite colour is turquoise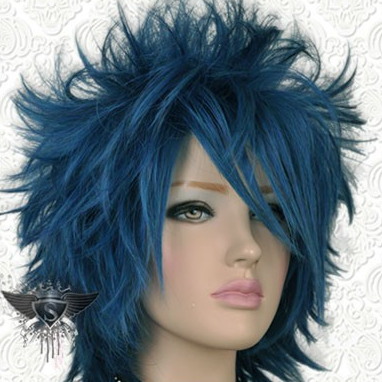 I wore my new turquoise blue wig outdoors for the first time today (although, I had to cut some of the long fringe first as I couldn't see otherwise.)
The wig is a gorgeous colour. It's not one colour - it's streaked - and so it looks like dyed hair rather than a synthetic wig. I have to figure out how to make it spikey. It got flattened in transit.
I have a black back-up wig in a short wavy style for when I don't feel up to people staring at me, because stare they did today. It wasn't even a "ooh, nice" stare but a "what the..." or "huh?" stare.
It's not pleasant being stared at when people can't be bothered to smile or mention the thing they're staring at.
But I've stared at whacky hair too.
From, now on, whenever I see someone with great coloured hair, I'll grin or tell them that I like it.
I asked Frank to take some photos.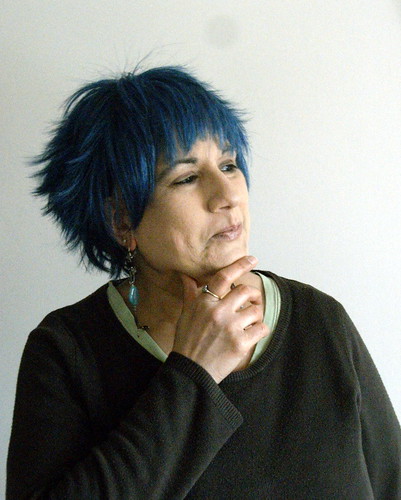 Ode to hair
My hair was coming away in clumps before my second chemo. I was determined to retain as much as I could for my second session and so I didn't wash it until the day after, when about 90% came away in my hands.
I have very little hair now, too little to be seen in public without scaring young children (!) but I find it interesting that a) I have any hair left at all and b) it's still essentially in my regular style. But, I'm the first to admit that being nearly-hairless looks somewhat shocking.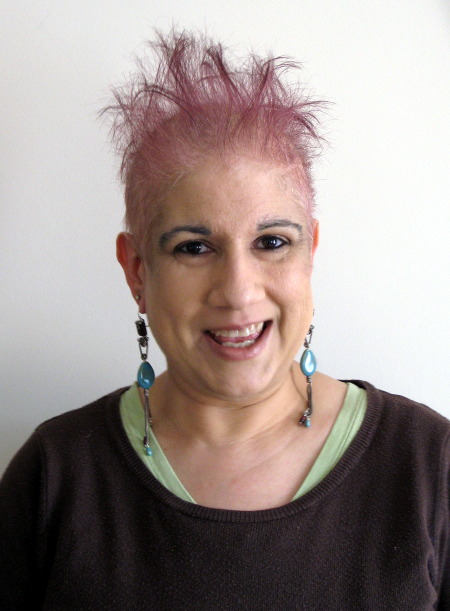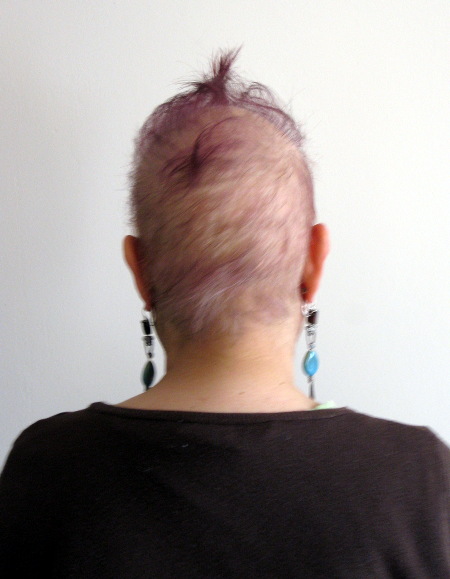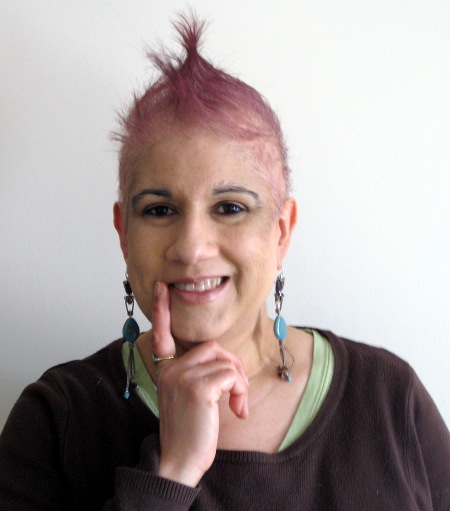 I wonder whether the people who stared at me in my blue wig today -in a judging way, even - would have preferred me to go out au naturale. Amazing what difference a hair colour makes, huh?
(I can't help noticing that I look tired in these photos. Nor the weight I've put on - just under two stone - 25 lbs, 11.4 kg - in 14 months.)
This is the crocheted hat I bought from an Etsy seller. She makes them specifically for women undergoing chemotherapy.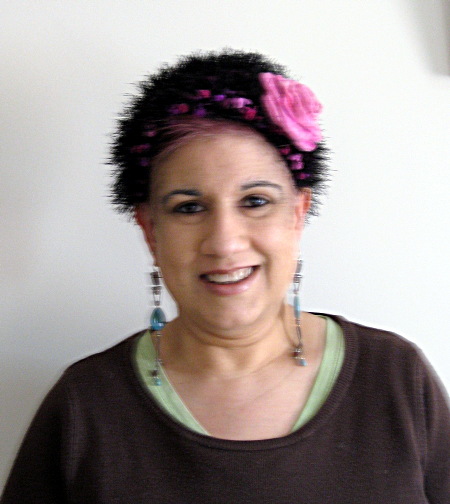 It's lovely and comfortable but, because it's made from synthetic wool, it makes my head hot.
Chemo #2
Last week's chemo didn't go as well as the first.
I had a different nurse and she administered the drugs at a different (faster) speed. It caused some discomfort - aches in my wrist and up my arm. It was a "get it out of me!" feeling. Now, over a week later, my arm is still sore to the touch.
The nurse slowed the drips and the discomfort subsided. Now that I know what the feeling means during chemo, I can get the drips slowed down immediately.
Chemo side-effects
I'm pleased to say that I don't have any bad side-effects from FEC chemo. I'm going to document the side-effects here once, just in case anyone's interested.
Nausea
The nausea is worse the first few days after each session but it is manageable through medication. Each chemo regime includes an anti-nausea drip. I am also given two kinds of anti-sickness pills which I take for three days.
In addition, I have been given two different back-up anti-sickness pills to take as needed.
I hadn't taken any of the extra pills after my first chemo, despite having mild bouts of nausea most days. However, during my second chemo, a nurse came to fill in a form and asked me about my side-effects. After being asked about sickness, I mentioned the nausea.
She asked how long it lasted and I said the whole three weeks. She was surprised (and sounded dismayed for me) and asked whether I took the extra anti-sickness pills. I said I hadn't as I'd understood they were for if one was actually vomiting. But her question made me rethink the pills I had at home.
I felt hot and faint, and was finally sick on the Saturday morning (four days after chemo #2). Since then, I have taken one of the extra anti-sickness pills if the nausea lasts for more than a few minutes. The pill works in 5-10 minutes and so I'm very happy with that.
I've worked out that nausea is how hunger annoyingly manifests itself now; I haven't had a rumbling tummy from hunger since chemo started. However, it also signals eating the 'wrong thing' (dairy, I think, for me).
For someone who will resume their diet after treatment, it's not good that when I start to feel nauseous I know it's time to eat!
I've been cooking batches of pasta with a tomato sauce laden with a lot of vegetables and pulses. (I've since added treats of sun-dried tomatoes and olives.) It means that I can get my protein, carbs and veg in one meal.
My previous cheese, pickle and crisp sandwich wasn't really sustainable!
Apathy
Thankfully, feeling glum and lethargic only lasted one day this time.
Coldness
My hands and feet still always feel very cold. I am wearing indoors in mid-May what I wore in the coldest part of winter - including two pairs or socks and mittens - but my feet and hands still feel cold. However, it's manageable.
I've gone off milk but I drink a lot of ginger and fruit teas. I can always have a hot bath or climb into bed if I feel too cold.
Gums
Strange things are happening to my gums. It's like the gum has been pulled down where my teeth are. I haven't looked this up online but figure that this is why other people going through chemo wash their teeth after every meal. I hope that my teeth don't fall out.
Mouth sores
The inside of my mouth is slightly sore - sensitive. I have stopped drinking orange juice (too acidic) and am avoiding spicy food. I've been given a mouth-wash to use if I need it.
Acid stomach
I have pills to reduce acid-production in the stomach and this week (5 weeks into chemo) it seems obvious why. My stomach is giving me familiar signals that it's feeling the acid.
Again, my avoiding shop-bought orange juice (both orange juice and apple juice have a lot of added citric acid) and spicy food will help.
Sore head
It hurts to move my hair after it's been squished down. I think that the follicles are tender, rather than the scalp itself. It's not a big pain. I wear a loosely-tied silk scarf on my head while I'm at home - for the cold - and it's very comfortable.
Fatigue
I get sleepy quite early in the evening and could easily sleep for 10 hours a night. There aren't any pills for fatigue. I stay up while I can and rest when I have to. *shrug*
Four more chemo sessions
I expect future chemo sessions will be much as the past. The side-effects are supposed to be cumulative but I'm confident that I can manage with anything that comes up.
I don't expect to blog any more about chemotherapy, maybe just after the last one.
Chemo is very boring. It's hard to forget it's happening because there are daily reminders. The world has got very small. I need to get out more.
My social calendar
I look forward to seeing my friends again. I can now be confident in saying that I will be up and around the second and third week after each chemo.
My availability is:
now - 25 May
31 May - 14 June
21 June - 5 July
12 July - 26 July
2 August onwards